Year End Banquet
Enjoy a fun night out celebrating all of the TEAM Member's accomplishments throughout the year. TONS of awards & ribbons given out, guest speakers & silent auctions make for an unforgettable event!


Hagyard Team Challenge
Each year TEAM sends top riders from the BN - P Levels to the Kentucky Horse Park's Hagyard Midsouth Team Challenge to compete and represent the State of Michigan! In recognition of the riders, awards are given and stabling expenses are covered by TEAM!
Year End Awards
Each year at the Annual Year End Banquet Gala, TEAM Riders are awarded with a number of amazing awards and prizes recognizing them for their accomplishments throughout the season! Scroll down to see past years' award winners!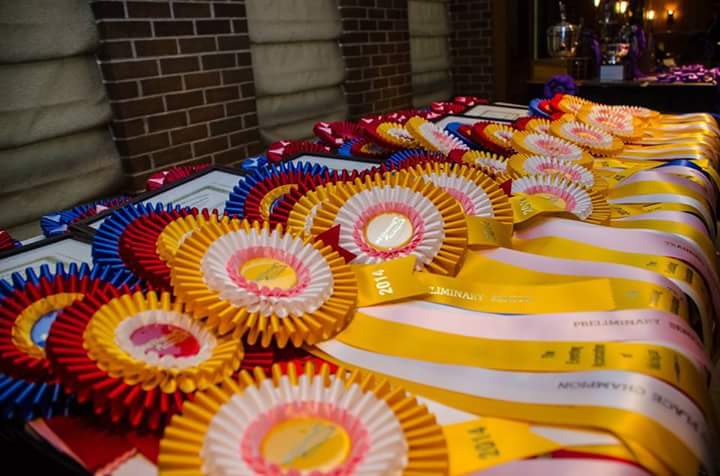 2018 Award Winners
We would like to take the time to congratulate all of our Award Winners for the 2018 season!
Trophies, scholarship, awards based on nominations and votes:

Bordeau Sport Horses Horsemanship Trophy
Recognizes outstanding horsemanship - Nominated and voted on by the membership
Ansley Haan
Carolyn Van Cise Trophy
Recognizes an outstanding TEAM support person - Nominated and voted on by the membership
Martha Mulks
Challenger Trophy
Awarded to the horse and rider with the highest combined age
Dianna Grayson and A Work of Art, 80 years combined
Marie-Claire Dresch Exceptional Volunteer Trophy
Recognize an above-and-beyond volunteer - Nominated and voted on by the TEAM Board
Sue Aeck
Mr. Sandman Trophy
Recognizes outstanding sportsmanship - Nominated and voted on by the membership
Sandra Adams
Molly Bucci Memorial Award
Awarded to the top horse show parent of the year. Sponsored by Emily Nett Eventing
Martha Mulks
Presidential Trophy
Selected by the President to honor an exceptional contribution to the improvement of eventing
Carolyne Wheeler
Sporting Chance Trophy
Awarded to owner of a horse that contributes to the advancement of multiple riders - Nominated and voted on by the membership
Hazel River owned by Lyanne Yeh
Trot the Runway Award – Cross Country(Ribbon/sash/gift)
Skylar Smith
Trot the Runway Award – Formal(Ribbon/sash/gift)
Carrie Mulks

TEAM Year End Awards 2018 – Calculated from points:
Lowest Overall Event Penalty Score (Plaque sponsored by Misty Meadows)
Awarded to the amateur or junior rider with the lowest overall penalty score in any division at a TEAM event
Mindy Kutzner-Shannon on Free Spirit CR
Training level at Honey Run Team Challenge, 24.8
Shanco Sporthorse Trophy for High Point OTTB Trophy
Awarded to the OTTB with the most points
Titan, owned and ridden by Courtney Lucas
21 points earned at Training Level
Castleberry Trophy
Overall high point junior rider (can include multiple horses and multiple levels)
Jordan Riske, with a total of 35 points-
including 15 points on Amazingly Lucky at Training
7 points on Roxy at Prelim, 7 points on Redemption Song at Prelim
and 6 points on My Sodapop Crush at Beginner Novice
Bob Hutton Trophy
Overall high point senior amateur (can include multiple horses and multiple levels)
Mindy Kutzner-Shannon, with a total of 34 points-
including 21 points on Free Spirit CR at Training level
7 on SF Lonely Heart at Beginner Novice level
and 6 on Tristan at Prelim level
Mulks Eventing High Point Professional Trophy
Overall high point professional (can include multiple horses and multiple levels)
Carrie Mulks Fisher with a total of 19 points-
including 7 points on Riddle Master at Prelim level
5 points on Zara at Prelim, 4 points on Lopster at Training
and 3 points on Sonny at Training
Equijenn High Point Starter Junior Trophy
High point junior rider with the most points in their first season at Starter level
Sydney Bain on Capetown, 12 points
Cedar Ridge Welcome to Beginner Novice Junior Trophy
High point 1st year Junior BN rider/horse combination with most points in first season of competition
Maya Stille on Twilight Elegance, 17 points
Misty Meadows Welcome to Novice Junior Trophy
High point 1st year Junior rider with the most points in their first season at Novice Level (Sponsored by Misty Meadows)
Sophie Celeste on Princess, 7 points
Cedar Ridge Welcome to Training Junior Trophy
High point 1st year Junior rider with the most points in their first season at Training Level (Sponsored by Cedar Ridge)
Courtney Lucas on Titan, 21 points
Kelly J. Smith Memorial Welcome to Eventing Trophy (Sponsored by Linda Cooper)
Senior amateur rider with the most points in their 1st season at beginner novice
Jennifer Nasceif on Gypson Hills, 5 points
Watership Downs Welcome to Novice Senior Trophy High point 1st year Novice
Awarded to the senior amateur rider with the most points in their first season at novice (Sponsored by Watership Downs)
Abby Basner on Don't Get Me Wrong, 5 points

Tied for points with Courtney Zachary on Snoop Dogg, 5 points; tie broken by lowest overall score
Diane Hoppenstedt Trophy (Trophy)
Senior amateur rider with the most points in their first season at Training level
Viviane Walters on LC Snowcap, 10 points
Ann Keppler Award
Junior or Senior amateur rider with the most points in 1st year at prelim
Mindy Kutzner-Shannon on Tristan, 6 points
Hunters Run Farm Derby Trophy
Lowest Overall Derby Score by an Amateur TEAM member at any TEAM Derby (Sponsored by Hunters Run)
Laura Kapanowski on Mystic at Novice level at the Cobblestone Halloween Derby, 17.4
Dream Big Darling Upper Level Achievement Trophy in Memory of Philippa Humphreys
Awarded to the TEAM Member with the highest level achievement
Carrie Mulks Fisher
OI at Virginia H.T. on Zara, 10th place
OI at MayDaze on Zara, 7th place
IP at IEA HT on Riddle Master, 3rd place
CCI* on Riddle Master at Hagyard, 15th place

DERBY RIDER AWARDS – JUNIOR RIDERS:
(Ties broken on lowest overall score)
Junior Rider, Starter Division
Champion: Sydney Bain on Capetown, 7 points
Reserve: Sophie Celeste on A Summer Breeze, 7 points
Junior Rider, Beginner Novice Division
Champion: Emma Carroll on Prime Magnus, 12 points
Reserve: Carolyn Randolph on Oakforest Carbon Copy, 11 points
Junior Rider, Novice Division
Champion: Sophie Celeste on Princess, 10 points
Reserve: Bethany Randolph on Mercy Me, 7 points

Tied with Ella Spiers on Sky's the Limit, 7 points
Junior Rider, Training Division
Champion: Kiersten Miller on Pierre, 9 points
Reserve: Aubrey Whalen on Waking Up in Vegas, 7 points

DERBY RIDER AWARDS - SENIOR RIDERS:
Senior Amateur Rider, Starter Division
Champion: Jennifer Nasceif on Gypson Hills, 18 points
Reserve: Alessia Hoisington on Always Alex, 9 points
Senior Amateur Rider, Beginner Novice Division
Champion: Mary DeBono on Dancing Laila, 11 points
Reserve: Lilija Ibershoff on Satin Standing Ovation, 9 points
Senior Amateur Rider, Novice Division
Champion: Halley Widlak on Galvatron, 18 points
Reserve: Katherine Hanway on Matched Lite, 6 points

Tied with Kaila McCormack on Frozbe, 6 points
Senior Amateur Rider, Training Division
Champion: Jennifer Lewandowski on Squire Redford, 4 points
Reserve: Miranda Losey on Rapid Tempo, 3 points
HORSE AWARDS:
Can include multiple riders
Overall High Point Champion Horse: Senior rider (amateur or professional)
Deal Me In ridden by Mary Clare Owdziej at Beginner Novice level, 27 points
Overall High Point Reserve Horse: Senior rider (amateur or professional)
Free Spirit CR ridden by Mindy Kutzner-Shannon at Training level, 21 points
Overall High Point Champion Horse: Junior rider
No Notting's Nest ridden by Chloe Miller at Novice level, 24 points
Overall High Point Reserve Horse: Junior rider
Titan ridden by Courtney Lucas at Training level, 21 points
EVENT RIDER AWARDS – JUNIOR RIDERS:
Can include rides on multiple horses at the level - Ties broken on lowest overall penalty score
Junior Rider, Starter Division
Champion: Sydney Bain on Capetown, 12 points
Reserve: Hannah Willford on My Sodapop Crush, 10 points
Third: Madison Horvath on Written in the Stars, 5 points
Fourth: Morgan Smolinski on Broadway, 5 points
Fifth: Autumn Vavrick on Hollis, 3 points
Junior Rider, Beginner Novice Division
Champion: Molly O'Connor on Dakota, 18 points
Reserve: Maya Stille on Twilight Elegance, 17 points
Third: Hannah Sullivan on Ebony II and Watership Downs Titan, 15 points
Fourth: Brooklyn Lyos on Valiant Sir Valiant, 11 points
Fifth: Emma Fromhart on Molly, 11 points
Junior Rider, Novice Division
Champion: Chloe Miller on No Notting's Nest, 24 points
Reserve: Slater Boos on All In, 14 points
Third: Laura Kapanowski on Mystic, 11 points
Fourth: Mariah Samonek on Sozo, 9 points
Fifth: Emma Hilbert on Ima Rain Storm and A Hero's Tale, 7 points
Junior Rider, Training Division
Champion: Courtney Lucas on Titan, 21 points
Reserve: Kiersten Miller on Pierre, 17 points
Third: Jordan Riske on Amazingly Lucky, 15 point
Fourth: Lauren Tucker on Lopster, 7 point
Fifth: Carolyn Randolph on Hoagy's Equality, 6 points
Junior Rider, Prelim Division
Champion: Cierra Daratony on Rio de Janeiro, 15 points
Reserve: Jordan Riske on Roxy and Redemption Song, 14 points
Third: Emma Hilbert on Percival, 2 points
Fourth:
Fifth:  

EVENT RIDER AWARDS - SENIOR RIDERS:
Can include rides on multiple horses at the level - Ties broken on lowest overall penalty score
Senior Amateur Rider, Starter Division
Champion: Monica McLaughlan on Vessel Seven, 6 points
Reserve: Alessia Hoisington on United States Jane, 5 points
Third: Jennifer Nasceif on Gypson Hills, 5 points
Fourth: Valerie Johnson on Henson, 4 points
Fifth: Dianna Grayson on A Work of Art, 3 points
Senior Amateur Rider, Beginner Novice Division
Champion: Mary Clare Owdziej on Deal Me In and City of Ember, 32 points
Reserve: Mary DeBono on Dancing Laila, 13 points
Third: Alessia Hoisington on United States Jane, 10 points
Fourth: Mindy Kutzner-Shannon on SF Lonely Heart, 7 points
Fifth: Kirsten Raab on Hazel River, 5 points
Senior Amateur Rider, Novice Division
Champion: Viviane Walters on L.C.Snowcap, 9 points
Reserve: Sara Calverley on Royal Ties, 8 points
Third: Kathleen Neuhoff on Logan, 7 points
Fourth: Abby Basner on Don't Get Me Wrong, 5 points
Fifth: Courtney Zachary on Snoop Dogg, 5 points
Senior Amateur Rider, Training Division
Champion: Mindy Kutzner-Shannon on Free Spirit CR, 21 points
Reserve: Kathleen Neuhoff on Swiss Mystique, 12 points
Third: Viviane Walters on L.C. Snowcap, 10 points
Fourth: Sandra Adams on Louis Vuitton and Artwork, 9 points
Fifth: Kaila McCormack on Frozbe, 4 points
Senior Amateur Rider, Prelim Division
Champion: Mindy Kutzner-Shannon on Tristan, 6 points
Reserve: Sandra Adams on Louis Vuitton, 1 point
Third:
Fourth:
Fifth:
RIDER AWARDS – PROFESSIONAL RIDERS:
Can include rides on multiple horses - Ties broken on lowest overall penalty score
Professional Rider, Novice Division
Champion: Madison Collier on Little Red Sports Car, 10 points
Reserve: Lauren Fetner on Lil Miss Match, 7 points
Third: Kelsey Boos on Jericho, 6 points
Fourth: Brittany Weber on Zamara, 4 points
Fifth: Kellyn Burtka on Bauer, 2 points
Professional Rider, Training Division
Champion: Ansley Haan on Intoxicated and Louis Vuitton, 9 points
Reserve: Carrie Mulks on Lopster and Sonny, 7 points
Third: Emily Nett on Spinnaker Parade, 6 points
Fourth: Alicia Harbin on Black Satin, 4 points
Fifth: Kelsey Boos on Trocadero, 4 points
Professional Rider, Prelim Division
Champion: Holly Zecchin on Spare, 13 points
Reserve: Carrie Mulks on Riddle Master and Zara, 12 points
Third: Maxine Preston on Shannondale Magnum, 6 points
Fourth: Ansley Haan on Louis Vuitton, 3 points
Fifth: Sue Moessner on Satin Mystique, 1 point
UPPER LEVEL RIDER RECOGNITION RIBBONS:
Awarded to TEAM riders who have competed at levels higher than Preliminary in the past season
Carrie Mulks Fisher -
OI at MayDaze on Zara, 7th place
IP at IEA HT on Riddle Master, 3rd place
CCI* on Riddle Master at Hagyard, 15th place

Susan Moessner -
IP at Champagne Run on Satin Mystique, 4th place
IP at MayDaze on Satin Mystique, 2nd place

Maxine Preston -
CIC* on Shannondale Magnum at Maryland HT, 5th place

Cierra Daratony -
CCI* at Hagyard on Rio de Janeiro, 2nd place
CIC* at Plantation Field on Rio de Janeiro, 4th place

Jordan Riske -
IP at Jump Start on Roxy, 7th place